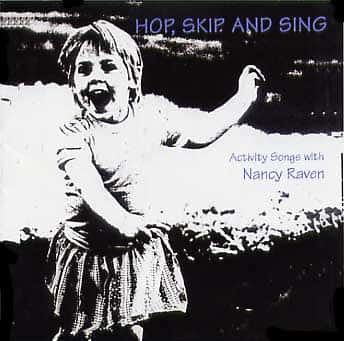 Nancy Raven's
Hop, Skip, & Sing / Singing in a Circle & Activity Songs
Available through the iTunes Music Store. (You can download iTunes for Mac or PC here.)
This CD combines the music from two classic Nancy Raven audio tapes: Hop, Skip, & Sing, and Singing in a Circle & Activity Songs.
Taking time out in your program for singing and musical games can be a vital segment of the day. There may not be time for it every day, but when there is, take advantage of it. Through singing, the mood of the group can be changed, colors can be taught, concepts introduced, and a one-to-one ratio can to established to involve individuals.
If the group is shy, and you are new to them, try the call and response songs that don't demand a lot of singing on their part, such as Three Pirates or Big Husky Brute. You'll discover that it is wise to mix the songs: loud and soft, active and quiet, to keep the group from becoming overwrought with too many boisterous songs, or bored and restless with too many quiet songs.
Recording on location with a group of bouncing pre-school children is not easy at best, so we trust you will overlook any technical discrepancies in favor of the spirit of the music. We hope this presentation will demonstrate the effectiveness of active participation in song and game activities with children.
These are active songs. They involve mental and/or physical activity and direct participation of the children. The participants on this CD are not polished professionals, but rather they are children singing the way they do in real life under normal group conditions.
This CD includes some instructions as the songs and song games progress. Coupled with lyric and teacher guide, comfortable and simplified instruction is made possible.
Physical activities such as hopping, skipping, galloping, etc., are introduced, as well as number practice, letters of the alphabet, colors, and other concepts.
Original musical arrangements by Nancy Raven
Produced by Joan R. Lowe
Special assistant: Wini Maclean
Copyright ©1969 Joan Lowe Enterprises
CD graphics by Leslie Milliken
Hop, Skip, & Sing
Songs on this CD from Hop, Skip, & Sing are:
New River Train
Old John the Rabbit
Mr. Rabbit, Mr. Rabbit
Whoopee Ti Yi Yo
Bingo
Had a Bird
I Asked My Mom
Jennie Jenkins
Little Bird
Big Eye Rabbit
Rig-A-Jig-Jig
Donkey Riding
I Want to be a Farmer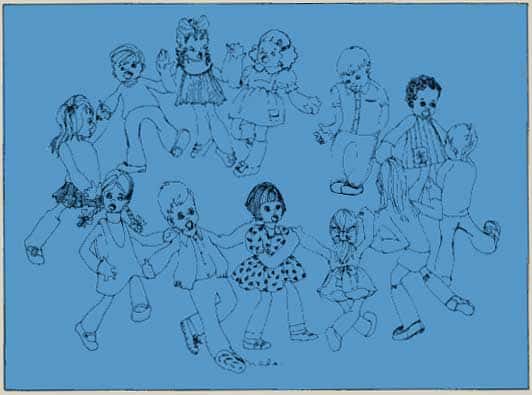 Singing in a Circle & Activity Songs
Songs on this CD from Singing in a Circle & Activity Songs are:
Three Pirates
All the Fish
Cape Cod Chantey
Skip to My Lou
Big Husky Brute
How Old Are You?
Pudding Bag
Up on a Mountain
Shoo Fly
Hey, Betty Martin
Let's go to the Zoo
Clap Your Hands
Jim Along Josie
Available through the iTunes Music Store. (You can download iTunes for Mac or PC here.)