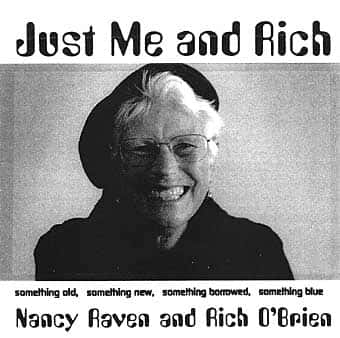 Nancy Raven and Rich O'Brien
Just Me and Rich
Something old, something new, something borrowed, something blue.
Here is a collection of songs I have always loved. Now, thanks to the generous and magical help of Rich O'Brien, I found the courage to record it.
It was such fun to be in Texas for the first time, out on a country road, tucked into the Casey Jones Studio where Rich works his genius. Thanks, too, to Aarom Meador, our engineer, whose fine ear makes this sound so good.
Anything with a string on it is played by Rich, and the vocals are all mine, with the exception of some harmony on Pacific Palms, where Rich lends his voice.
I hope you enjoy our fun. Thanks for listening.
Nancy Raven
Musicians and helpers
Nancy Raven: vocals, washboard, maracas.
Rich O'Brien: all stringed instruments, backing vocals (Pacific Palms).
Engineer: Aarom Meador.
Cover photo: Martha Casanave.
Song list
Gone Fishin' (Louis Armstrong)
Slow Boat to China (Frank Loesser)
Crescent City Blues (Gordon Jenkins, 1953, from Seven Dreams)
Someone to Watch Over Me (George Gershwin)
Let's Get Away from It All (Matt Dennis and Tom Adair)
Angel Eyes (Matt Dennis)
Java Jive (Drake, Oakland, Carlon, and Raven)
Coast of Marseilles (Keith Sykes)
Eres Alta (old Spanish folksong)
Black Girl (traditional U.S.)
Cell Phone Blues (Nancy Raven)
Faces (Holly Near)
Cowboy's Lullaby (traditional U.S.)
There, I've Said It Again (Redd Evans and Dave Mann)
Talkin' Want Ad (Janet Smith)
If You're Lucky (Nancy Raven)
Barrel O' Money Blues (Pete Seeger)
Pacific Palms (Nancy Raven)
Total time: One hour
Produced by Lizard's Rock Music, Monterey, California
Recorded at Casey Jones Studios, Burleson, Texas
Note: This CD is a limited release, and is not for sale.