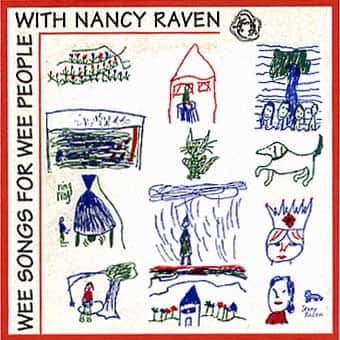 Nancy Raven's
Wee Songs for Wee People / Thoroughly Modern Mother Goose
Available through the iTunes Music Store. (You can download iTunes for Mac or PC here.)
This CD combines the music from two classic Nancy Raven audio tapes: Wee Songs for Wee People, and Thoroughly Modern Mother Goose.
Nancy Raven is a teacher and musician, a guitarist, and innovator in teaching involving personality, mental, and physical development in young children through music. Her experiences in folk music and working with children in a teaching situation have been combined to create effective aids enjoyed by all who hear and/or use them in school or at home.
The rhyme-songs are varied in content and presentation, displaying a myriad of subjects and events that attract and intrigue and expand awareness. The melodies are simple and direct, making it easy for anyone to learn the rhymes and sing along. Delightfully accompanied by guitar, dulcimer, finger cymbals, and even a kazoo, this is truly a thoroughly modern Mother Goose.
Original melodies and arrangements by Nancy Raven (except those marked as traditional)
Vocals and accompaniment by Nancy Raven
Produced by Joan Lowe
Assistant: Lisa Miller
Front cover art by Jenny Raven
CD graphics by Leslie Milliken
Wee Songs for Wee People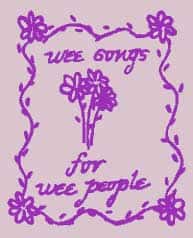 Songs on this CD from Wee Songs for Wee People are:
One Misty, Moisty Morning
It's Raining, It's Pouring
Little Jack Horner, Miss Muffet
Wee Willie Winkie
Humpty Dumpty
Bobby Shafto
Doctor Foster
Two Cats of Kilkenny
See Saw, Margery Daw
Hannah Bantry
There Was a Little Girl
The Noble Duke of York
There Was An Old Woman
Hark, Hark
Lady Bug, Lady Bug
Dance to Your Daddy
Hush Thee, My Baby
Dance Little Baby
Hush-A-Bye
Bye, Baby Bunting
One, Two, Buckle My Shoe
To Market, to Market
Brow Brow Brinkie
Pat-a-Cake
Great A, Little a
Ride a Cock Horse
Here is the Church
This Little Pig
Pease Porridge Hot
Sulky Sue
Thoroughly Modern Mother Goose
Songs on this CD from Thoroughly Modern Mother Goose are:
A Dog and a Cat Went Out Together
John Cook
Sing a Song of Sixpence*
See Saw, Sacara Down
When Jack's a Very Good Boy
Robin the Bobbin
Billy Boy*
If All the Seas Were One Sea
Peter, Peter, Pumpkin Eater*
A Man in the Wilderness
Tom, Tom the Piper's Son
There Was a Crooked Man
Gregory Griggs
Hey Diddle Diddle
Three Young Rats
Over the Water to Charley
Animal Song
Polly Put the Kettle On
Little Robin Red Breast
There Was an Old Man*
Just Like Me
Jack Sprat
Counting Game
Little Girl, Little Girl
Tommy Snooks
Mutliplication
* Traditional melody
Available through the iTunes Music Store. (You can download iTunes for Mac or PC here.)